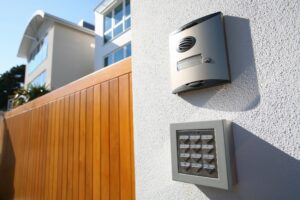 Access Control Solutions
Here at Lumina Group, Inc. we understand that you may need to restrict access to your property for a variety of reasons and can offer you multiple solutions. We install all the necessary cabling and equipment for both residential and commercial grade Access Control Solutions. We strive to offer our customers cost effective solutions to restrict access for the protection of both your guests and your property.
We handle Door entry systems be it a gate or at the front door of your building we can control all entrances to your property. We can program the system to call and give remote access to your visitors and deliveries.
We offer access control systems that operate with a pin code, key FOB, wrist band, or a Key card. We offer multiple types of control systems to try and meet our customers budget needs. All control systems come with prox readers. We use

mag locks or electric strikes depending on the unique needs of our customer.