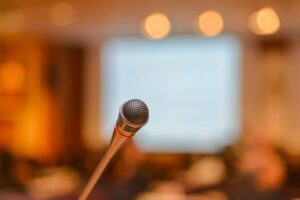 Overhead Paging/Background Music
If you have paging needs we can design your public address system or design a background music system for your small business or warehouse.
We have just the right speakers for your needs be it a cut-in, drop-in, wall mounted or in a decorative style like a rock of planter speaker.
8 ohms, 24-volt, 70-volt, or

IP systems.
Multiple system manufactures to suite your budget from Bogen, Valcom, and Symetrix.
We can interface the paging system with your analog or IP phone system to allow you local or zone paging functions.
Two way talk back speakers can be installed to allow you to have a conversation with the area you are paging.
Volume controls will be strategically placed around the site to adjust the volume for each zone locally.
We also install a White/Pink noise generator to provide privacy in the office environment or call center environment.

This can be a great advantage for your human resource officer to have the privacy they need.