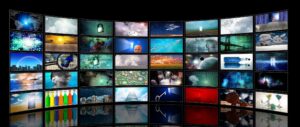 Video Distribution Solutions
Do you have video distribution needs? Let us design and install the perfect Video Distribution system to fit your unique needs and budget.
IP, Analog or Digital Distribution systems
Perfect for restaurants, office settings or just for use as a information

board.
Our easy to use systems allow you to display the same image across multiple TVs, saving you money on cable boxes each month.
Our IP systems allow for network IDs to be at each location letting you control what TV has what image with just a click of the mouse.