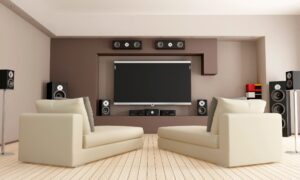 Home Theaters
Let the experts at Lumina Group, Inc. design and install the sound system of your dreams for your home theater. We can design your custom theater room to your unique needs be it for general TV watching, Movies or Gaming. The systems are a 3.1, 5.1, 7.1 or a Dolby Atmos system.
We use TruAudio Speakers and amps giving you the flexibility in speaker size and amp power options.
All amps can be rack mounted for those who wish to have an A/V rack installed.
We offer custom 3.0 soundbars that mount directly to your TV. No need for an entertainment center. Each soundbar is made with your exact TV in mind. All we need is the model number of the TV and a description of your audio needs to have your very own custom made soundbar.
Do you want a more traditional surround sound system? Then a 5.1 or 7.1 is what you are looking for. We have multiple series of speakers to choose from to get you the most out of your budget.
TruAudio sub-woofers come in many sizes depending on your unique needs. They also have the Trunami. A series of in wall sub-woofers so you don't see the standard sub-woofer box you are accustomed to seeing.
Dolby Atmos systems are for those who want a true movie theater experience. Each Atmos system is custom depending on the space of the room you are using. A minimum of 5.1 is required.
Have us install a custom sized projection screen to really give you and your guests that theater room feel. Each screen comes with a low profile picture frame mount.
Have us install your custom theater room row seating to enhance your experience.
Each system regardless of size will use harmony hubs for all the control of the devices. This allows us to have all the equipment in one remote location to keep your theater room clear of clutter. The hubs use IR, RF and WEB control. Your personal phone can be programmed as the remote or we can provide you with a 7″ tablet as a remote as well. Macros will be set up so you can change setting with one push of a button.
If your theater room has smart LED lighting we can program it a macro to automatically turn down and up the lights before and after each viewing.