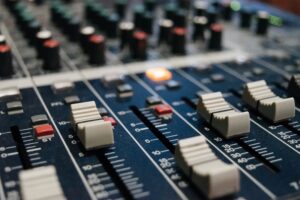 Whole House Audio
Here at Lumina Group, Inc. we understand the need for you to have a great audio system that fills your home with background music for gatherings of loved ones or your neighborhood block party. Let us help you fill your custom home with a custom whole house audio system that fits your needs. This system works with any audio source you choose from Alexa, Google home, Bluetooth or a receiver. Control your audio system handsfree!
We use TruAudio Speakers and amps giving you the flexibility in speaker size and amp power options.
All TruAudio indoor cut-in speakers have paintable grills to make it easy to match the speaker to your custom walls or ceilings color. The trim on our Ghost ceiling speakers will just disappear.
All amps can be rack mounted for those who wish to have an A/V rack installed.
Want to have your outdoor speakers hidden? TruAudio offers may solutions for your outdoor speaker needs from in-ground speakers and subwoofers, flower pots and rock speakers. Add base to your outdoor speakers all the neighbors will enjoy.
We install Volume controls to control the speakers in each room for convenience. They come in both the knob and slide style.
Bluetooth adapters can be placed and used to stream music on the fly to the system from your phone.
Don't want a single source to play over all the speakers at once then and easy solution is an audio matrix. They can be installed to have multiple audio sources playing in different zones at the same time.